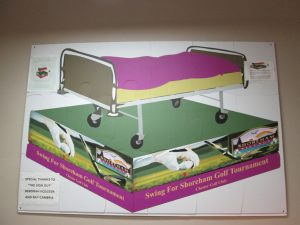 As some of you may have noticed, there is a huge puzzle of a bed in the main lounge outside the dining room. The puzzle represents the resident beds that require replacement at the Home. The Shoreham Village Foundation is fundraising for these beds and is urging the community, family and friends to help in this effort by purchasing puzzle pieces or a complete bed in memory of a loved one.
Each puzzle piece costs $160 and once 19 pieces have been purchased, one bed can be replaced. Essentially it is breaking the cost of a bed down into 19 manageable and more affordable pieces. Family members or friends can come together to support this initiative by sharing in the price of one or more pieces and help us to Build a Bed or purchase a complete bed in memory of a loved one. A puzzle piece makes a great Christmas gift or a gift in memory of a loved one.
Piece by piece we will puzzle together comfortable and safe beds for our residents to enjoy. Please help with this cause by mailing a cheque to the "Shoreham Village Foundation, 50 Shoreham Village Crescent, RR#1 Chester, NS B0J 1J0" or call the Business Office at 902-275-5631 extension 221 to make a credit card payment. Please note "Build a Bed" on all cheques.